Barrio Expressions
Between 1976 and 1985, Latinx Hayward participated in discussion and community events through a live call-in television show and immersive, documentary project, Barrio Expressions. The show's hosts traveled across the Bay Area and California to document daily community life in approximately 26 unique shows aired each year during its long run.
REFUTING STEREOTYPES IN LIVE CALL-IN SHOW
DOCUMENTING LOCAL ADVOCACY ON POLICE HARASSMENT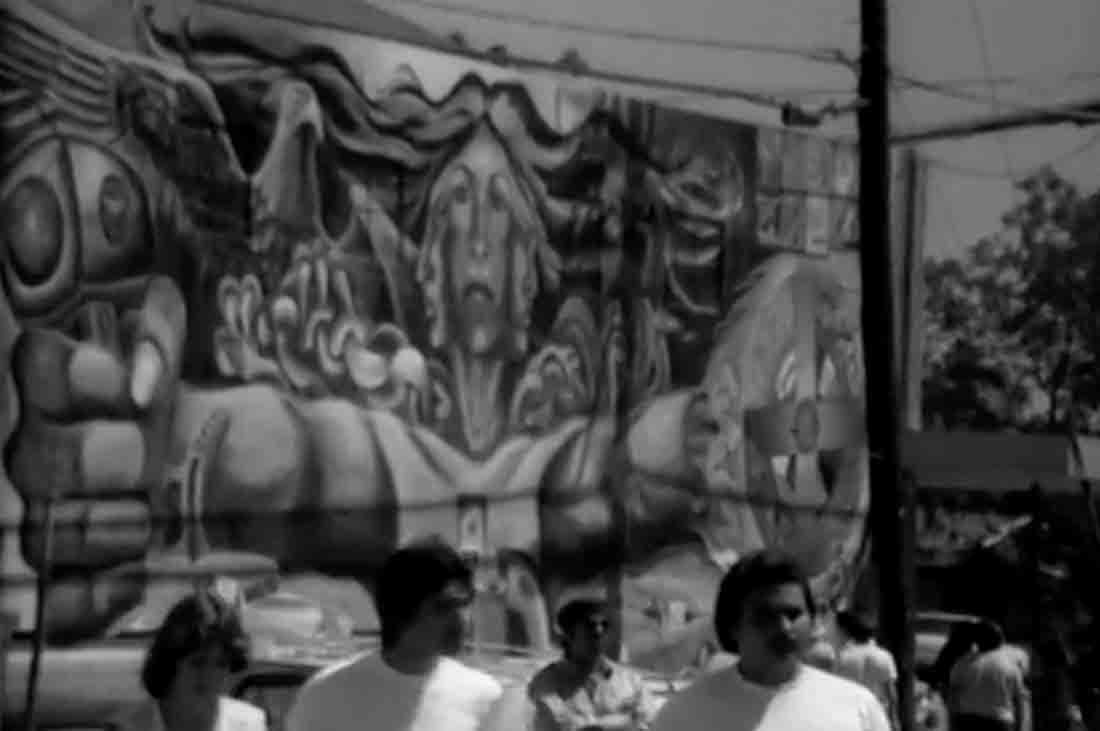 HAYWARD MURAL DEDICATION AND COMMUNITY IDENTITY
Guillermina Inahara
---
Guillermina Inahara (Sepulveda) was born in Castro Valley to Ismael Sepulveda and Anita Solorio. My dad is originally from the state of Durango, Mexico. My mom was born in Chicago, but was raised in Guanajuato, Mexico. They met at Hunt's Cannery in Hayward. I've lived in Hayward for all but the first 5 years of my life, when I lived in Decoto. I graduated from Tennyson High School in 1979 and then attended Heald Business College. I've done administrative work since then. I love hiking, gardening, and photography. I've been married for 35 years to Gary Inahara. I have 3 sons, Gary Jr., Armando & Raymond and five grandchildren. At the age of 62, I'm honored to be here today and share my personal experience with Barrio Expressions.
Gina Hernandez
---
Gina Hernandez (Alvarez) was born in San Leandro to Isabel Perez and Frank Alvarez. Both my parents were born and raised in Visalia California in the Central Valley near Fresno. My parents moved to the Bay Area in 1968 before I was born where I have lived all my life! I moved to Hayward with my mother, sister, and stepfather in 1978 when I was in 5 th grade. I graduated from Tennyson High School in 1986 and attended Chabot College, where I received two certificates in Office Administration along with courses in Business Administration. I have been at my current job "Brighter Beginnings" (a nonprofit that serves women, children, and their families) for 34 years. I started as an administrative assistant and now supervise the administrative assistant team and am one of the managers who lead our Oakland Site. I am also a leader at my church, Victory Outreach Heart of the Bay (Hayward), and oversee the Children's Ministry. Through my church, I also spend time coaching and encouraging broken women on their road to restoration. I have been married to my husband Robert Hernandez for 20 years and have been a couple for 23. I have had 2 sons, John Hurtado, Jr., and Victor Hernandez and as a blended family I have another son Robert Hernandez, Jr., and a daughter Naomi Hernandez. We have 8 grandchildren. My heart and joy are my family and spending time together. At the age of 55, I'm honored to be here today to share my personal experience of working on the show Barrio Expressions.
Barbara Furtado
---
Barbara Furtado was born in San Leandro, California to my parents, Isabel Perez-(Yanez) and Frank Alvarez. With my mother and sister, my family moved to Hayward, California. I remained in Hayward, until age 21, then moved to Castro Valley, California where I lived until 2021. I relocated to the Central Valley, Visalia, California, where my parents were born and raised. I am certified in cosmetology and have worked in the field for 20 years. It has been an occupation that I enjoy. I have been with my life partner, Jose Navarro for 17 years and together we have a blended family of four children: Jose Jr., Alexander, Savannah, and Niko. We are grandparents to Aleah, Kailanii, Amayah, Eva, and Joseph. I am an animal lover and dog mom to my two dogs: Dakota and Mars. I appreciate spending time with my family. I enjoy being artistic and creative. I am honored to be able to take part in this panel today to discuss and reflect on Barrio Expressions.
BROWSE THE COMPLETE ARCHIVES
---